My sweet daughter bought me this for Christmas (with her own money too) and it was a far better choice than many a dog treat cookbook I've chosen in the past.
So far I've made the "Gingerbread Mailmen" but since I didn't have a mailmen cutter they turned out to be boring old gingerbread bones. Thankfully my dogs are not snobbish and ate them anyway. These called for an entire tsp of ground cloves and let me tell ya, they smelled heavily of cloves. I don't think I'd like to eat them but the dogs, as I said, have no standards (which is why I love them so). This book also doesn't use wheat flour but it's easy enough to make brown rice and oat flour by throwing them in a Ninja or other tough food processor and blending them up to a fine powder. Pretty cheap too. Don't waste your cash on those fancy flours when you can whip them up yourself. Anyway, the recipe was easy to follow, had only a small handful of ingredients and made my dogs happy.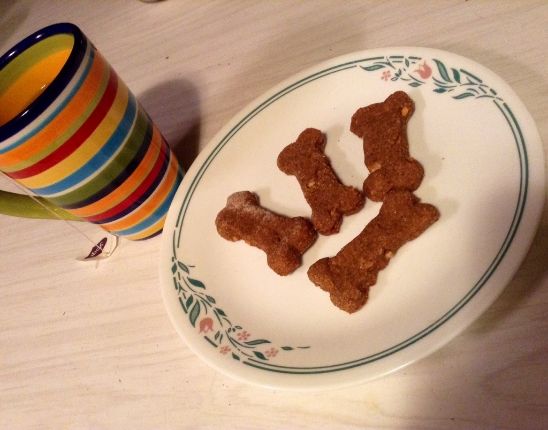 *Yes, the dogs must have tea with their biscuits.
So far, I'm liking this book a lot. The recipes seem to use normal ingredients, none stand out as troubling and I haven't run across any that seem too time consuming. I'll try to take pictures before most of them are devoured by this beast.
I'll update my review as I go.
Update 2-3-15
I made the Cheesy Biscuits while stuck home during a snowstorm. Easiest dog treats ever. Brown rice flour, oat flour (I subbed in wheat flour - ran out of oats), parm cheese, shredded cheese, egg & water. I had to add in a bit more water because of the flour sub but these came out great. And, of course, the dogs LOVE them.
While reading I did see one recipe I cannot make because it contains tomato and my dog is highly allergic which we learned the hard way. After we nearly lost him, I read up and realized tomato and tomato products are not recommended for dogs. My dog gets intense intestinal distress (emergency room level if he eats too much) so I am super careful.