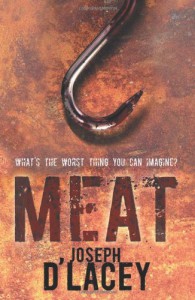 I've read many horrific things and thought I'd "read it all" but this one is genuinely frightening because I can see things going this way in the case of an apocalypse or other such disaster, with those in a position of power taking advantage of those without. Call me gloomy but I don't have a lot of faith in man.
It's very thought provoking and reinforces my belief that raising animals in horrible conditions for meat and profit is wrong (though I'm not a vegetarian this book may just push me over the edge). It tells the story of a civilization that is, well, no longer civilized. Those in power want to stay there and they are keeping a terrible secret from the starving masses.
It was a haunting read that was absolutely horrifying and not for the weak of heart (but I do wish everyone would read it). It dragged a bit for me at the midway point when the focus shifted but overall it was one of those books that I hated to put down when life interrupted.