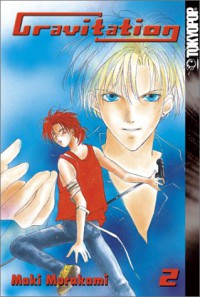 Book #2 in the Gravitation series. I wasn't overly fond of Gravitation, the first in this series but since I bought these two together I figured I'd give it a go before sending it on. I probably should've just let it go . . .
This book has received so many rave reviews and I honestly can't figure it out. I had the same confusion issues that I had with the first book, the author seems to leave out certain bits of dialogue and/or scenes and it stops me in my tracks. I don't know if this was a translation issue (or even it was translated) but it was bothersome. The two leading man-boys are here and their relationship hasn't changed much. Yuki is still a cruel ass to Shuichi and remains so throughout this story. Their relationship moves at an alarming pace without the benefit of any emotional growth. Alls I want is a genuine conversation, and maybe a tender non-sexual touch or two but maybe I'm asking too much?
SPOILERS AHEAD
Yuki and Shuichi have sex but it's not a pleasant experience for Shuichi and it borders on rape. Yuki is rough, selfish and uncaring and Shuichi is left crying and physically hurting when Yuki is through (he took him 3 times). Yuki pretty much tells him to stop acting like a girl and quit his sniveling. This scene bothered me and wasn't at all romantic and only cemented my feelings that Yuki is an unlovable, jerk undeserving of Shuichi's devotion. Now I admit I wasn't in the best of moods when I picked this one up BUT that's why I picked it up. I was hoping for something light and fun and this totally did not deliver. It's supposed to be a romantic comedy, according to blurbage, but it was neither. There was other stuff going on about the band and we learn a bit about more about Hiro but the "relationship" between the two leads put me off so much that I'm throwing in the towel on this series.